All Toros, No Bull: A Small brace leads to a big win
RGVFC returned home and dominated Colorado Springs Switchbacks FC and now look ahead to Bold FC coming to town.
Rio Grande Valley FC returned to H-E-B Park after two straight road losses looking to get things back on track. They were able to do just that against Colorado Springs Switchbacks FC, winning 3-0. Wilmer Cabrera Jr. provided the opening goal and Carlos Small followed that up with a brace.
RGVFC Toros (5-6-4)
After back-to-back losses on the road, the Toros secured three points at home vs. Colorado Springs Switchbacks FC. Is that a marquee win? Based on C. Springs' place on the table, no. But, it's a convincing win in a league where upsets can happen any night.
RGVFC did not lead in possession last week, but they did hold the edge in shots and shots on target. Carlos Small is stepping up in a major way and it's going to be needed as the season wears on. Also, despite the disappointing result, it was nice to see him debut for the Houston Dynamo in the US Open Cup last night.
Robert Castellanos played well against Colorado Springs. With Kyle Adams away with Houston, he was a part of the back line that was lit up by Real Monarchs SLC. But, this time out, he played well, registering six clearances, two interceptions, and 80% passing in the shutout win.
An interesting moment in the match was the second penalty kick. Carlos Small converted the first one and Wilmer Cabrera Jr. already had a goal on the day, but Camilo Monroy stepped up to the spot and hit the frame of the goal. The logic may have been wanting to give confidence to the young Colombian because he will be relied on to pick up the slack with Maalique Foster gone. I would've let Small or Cabrera notch their brace, then either Monroy or Chuy Enriquez.
Shoutout to Brandon Morales, who leaves the Toros to play college soccer at Cornell. That young man was a great representative for the area after coming up through the RGVFC Academy. Best of luck to Baby Bull!
Top Toros
Player of the Week, Carlos Small: Getting the start up top, Small converted a penalty and tapped home a rebound to lead the Toros to a home win. He also won the foul to set up his own PK goal and created a chance. His performance earned him USL Team of the Week honors.
Wilmer Cabrera Jr.: He scored the opening goal and frustrated the Switchbacks' defenders to the tune of three fouls won.
Isidro Martinez: The midfielder created four chances for his teammates, tallied three interceptions and two blocked shots, and hit on 88% on his 48 passes. He also had one of the sauciest first touches I have seen in my time covering the Toros on the club's opening goal sequence. Check it out below.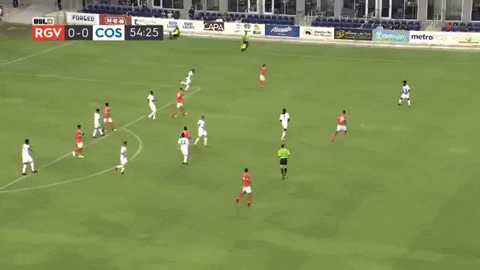 This Week's Quote-A-Bull: Nico Corti
On the importance of getting the clean sheet:
"Yeah, it was important for us to get the shut out. Our attackers have done a really great job of scoring lots of goals and we haven't kept as many clean sheets as we would have liked so far this year so its good to get back on track with that."
Austin Bold FC (5-5-5)
Despite sitting one spot ahead of the Toros on the table, Bold FC sit 20 spots below them on the goalscoring list. 26th in goals scored, the expansion side has four clean sheets and has only conceded 18 times in 15 matches. Former San Antonio FC standout and USL Goalkeeper of the Year Diego Restrepo recorded all four of those clean sheets and has made 13 appearances thus far.
BIG SAVE ➡ casual roll

Just another Saturday of @DiegoRestrepoGK making big stops. NBD#GoBold #LiveBold pic.twitter.com/mpPH8ygEw0

— Austin Bold FC (@AustinBoldFC) June 17, 2019
On the attack, three players sit tied with four goals: Kris Tyrpak, Kleber, and Andre Lima. Also, the club sits 6th in the league in both fouls conceded and yellow cards. They are 24th in passes and 25th in passing accuracy.
Former Houston Dynamo defender Jermaine Taylor has played in 14 matches and leads the club in interceptions and clearances.
The Particulars
Sunday, 7:30 PM Central Time, H-E-B Park
Austin Bold FC at Rio Grande Valley FC Toros
An Eloise & Sterling Ending