"We Know It's Lit": The Story of the Racing Louisville Light Show
"
The Lights, the Sounds, the Fans"
It seemed like it was over for Racing Louisville. Their debut match against the Orlando Pride had started off well when Cece Kizer scored first in the 12th minute. But, a Pride goal at the end of the first half tied the game, and then another in the final minutes of regulation time seemed to seal Louisville's fate.
Then, in the 93rd minute, Orlando's Ali Krieger fouled Savannah McCaskill setting up a free kick in a dangerous area. Racing midfielder Freja Olofsson's header knocked the ball down to the feet of teammate Brooke Hendrix. The veteran settled the ball, struck, and hit the netting, sending the stadium into utter pandemonium.
As House of Pain's "Jump Around" blared, the stadium lights began flashing dramatically to the beat of the music. Fans roared and purple smoke bellowed from the supporter's section as splashes of color illuminated the players celebrating on the pitch.
💜 this!@PurpleSDF with some new perspectives of an inaugural game we'll never forget: https://t.co/zBwN3cQYIp pic.twitter.com/WUh2NNJ8vP

— Racing Louisville FC (@RacingLouFC) April 20, 2021
"After the goal, it was utter delirium," said supporter Tom Benson who was in the stands that evening. "The stadium lights and music matched that. It made the stadium look like how the crowd felt."
The view from the field was just as exhilarating.
"It was incredible," exclaimed Hendrix after the match. "The lights, the sounds, the fans. It was unreal, honestly. It kind of took my breath away at first."
The celebratory light show took viewers at home by surprise. Racing's brother club, Louisville City, put on light shows throughout 2020, but the NWSL had never seen anything like this. Once viewers realized what was happening, the reaction was immediate.
On Twitter, most viewers responded enthusiastically. They loved the fact the new kids had pulled off a last-minute draw and celebrated it in a bombastic fashion. Some fans began to entertain the idea of trips to Louisville to see it in person. Others playfully called on their stadiums to include light shows, too.
Not all responses were positive, however. Some worried about photographers' abilities to shoot in such conditions. Others called it artificial, saying it took celebratory light shows to a "new and terrible level." And while naysayers were often met with responses like "do you hate fun?" others insisted that it wasn't just "tacky" it was exclusionary and dangerous to those with sensory sensitivities.
Hey this looks kinda neat! But is it worth the negative effect it will have on photosensitive fans and tv viewers? Probably not! Using unexpected flashing lighting just for a cheap effect is tacky, exclusionary, and potentially dangerous. https://t.co/nb8hb09FYR

— Sean Patrick Forsythe (@seanpforsythe) April 11, 2021
Debates broke out in the replies: How was this different than an NFL pre-game light show? How was this worse than a concert? No one had definite answers, but everyone had an opinion.
And thus the Racing Louisville light show was unleashed onto the world. Since that April evening, the club is rarely mentioned without some allusion to the show. Nearly every article, interview, and broadcast mentions it in some capacity. It became one of the club's defining features – literally overnight.
This is the story of Racing Louisville's light show. How it began, how it works, and how it exemplifies the club's passion for taking game day experience to the next level. We'll also hear from players, fans, and photographers, address safety concerns, and learn how the club is accommodating fans with sensory sensitivities. But mostly, we'll look at how events like these, which might seem excessive to outsiders, can help shape a new team's culture and build a sense of pride among fans and players in its earliest days.
The Show-Light Entertainment Package
One of Lynn Family Stadium's most striking features is the light posts that run along the length of the roof. Each post holds up to seven LED lights and curls gently upwards, almost giving the appearance of eyelashes.
"It's a very unique stadium in terms of its aesthetics," said club President Brad Estes in an interview with Jen Cooper on The Mixxed Zone. "We told [the architects] we wanted something that was unique and they came up with this design that had the light towers coming off of the roof in that manner. It's extremely aesthetically pleasing."
Uniqueness is something Soccer Holdings, LLC strives for. The parent company of both Racing Louisville and Louisville City is always trying to raise the bar and take everything a step further than everyone else.
"Everything evolves and grows and we're giving you our version of football," explained Mitch Ried, Senior Vice President for Sales and Marketing at Soccer Holdings and one of Racing's in-house light show experts. "We may be the new kid, but we know how to make an entrance and we know how to make it fun. That's been our strategy as far as content, rolling out the team, rolling out the kits, player announcements, the in-game experience. All of that is trying to raise everyone else's level."
And so, when Soccer Holdings had the option to take their stadium experience in a new direction by adding a light show, they didn't hesitate.
The club hired MUSCO, an Iowa-based company that specializes in the manufacture of sports lighting systems, to install and design Lynn Family Stadium's lighting. In addition to providing the typical maintenance and upkeep packages, they offered something called the Show-Light Entertainment Package. This includes an assortment of pre-preprogrammed lighting effects and colors. With the touch of a button, the lights chase around the perimeter of the stadium, flash up and down the length of the posts, or change to any number of common colors.
And for an extra cost, MUSCO's design engineers offer something extra special. They can create additional custom light shows to whatever songs their clients desire. All customers have to do is send them an mp3 and MUSCO will send back a full light show synced to that song designed specifically for that stadium's light rig. Each specially made show costs between $1,500 to $2,500 depending on length.
So, of course, Soccer Holdings bought several. And, they made sure to order special purple and lavender lights, too.
Welcome to the Party
Both teams have their own unique walk-on light show meant to hype up fans and players alike. Racing enters the pitch to colors flashing in sync with Diplo's "Welcome to the Party". Then there are red, white, and blue floodlights for the anthem. It's not really a show, but another nice effect to heighten the moment. And, then, each team has their own goal celebration designed to send the whole stadium into a frenzy. The club even orders light shows for special events. Before Racing's match on June 26, a special show set to Lady Gaga's "Born This Way" played as the Lavender Legion supporter's group unfurled their Pride-themed tifo.
All stadium shows are controlled from the A/V booth located up above the stands on the southwest side of the pitch. A mounted iPad contains all of the pre-programmed and customized light shows purchased by the team. So when a goal is scored, a single press of a touchscreen is all it takes to send the entire stadium into a frenzy.
How long that commotion lasts is up to whoever is in the booth at the time. Each show is programmed for the entire song, so if Racing scores a goal and no one turns it off, the full four minutes of "Jump Around" will play. This allows technical staff to choose a show duration that is appropriate for each situation. For example, if Racing is down by three goals and finally scores one, they'll still get a light show, but it'll be fairly quick. But if they score a game-changer, like Hendrix's goal against the Pride, it will go on longer. After all, everyone in the booth is likely jumping around in celebration at that point, too.
Typically, what's happening on the pitch determines the length of the show. It'll continue until the players are done celebrating or the ref signals they're ready to restart play.
So far each celebration has gone on without a hitch – with one exception.
"After the first match, we got in a little bit of trouble," admits Ried with a laugh. "We didn't realize how dark it would go."
They got a call from the NWSL telling them they needed to tone it down and not let the stadium get so dark that the footage goes black. Now, instead of fully blacking out, low-level lighting is kept on at all times. This doesn't change much for viewers in the stadium, but it makes a difference in the broadcast. Compare the shots below of Hendrix's goal against Orlando (top) and a goal scored by Emina Ekic against the Washington Spirit weeks later (bottom). The gif on the top flashes into total darkness while the one on the bottom remains visible the entire time.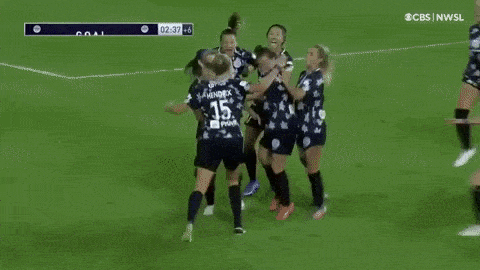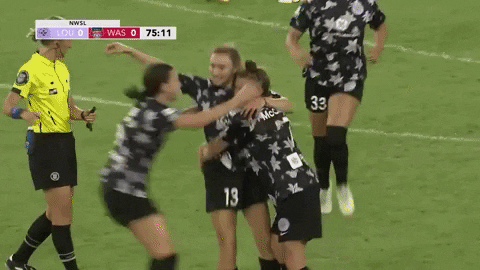 The light show is meant to create a fun environment. So if the club has to change the light levels to help with the broadcast, that's no problem. But it's not going away or getting altered because the players love it. The primary purpose is to create a celebration they want and until they change their minds, it's staying the way it is.
"Oh My God, This Is So Crazy"
From the get-go, Soccer Holdings made sure the players were involved in game-day planning. The club wants to create an environment that works for the team, so they asked their opinions on everything, including the music played during a match.
"I worked with several of the players when they got here, working on 'What kind of music do you want to hear when you warm up? What kind of music do you want to hear when you score a goal?" Ried explained. "I got a text from [Racing defender] Addisyn Merrick saying 'Hey, we want to do Jump Around' and that's all I needed to know."
Players knew there was going to be some sort of a light show, but going into that first game against Orlando, they didn't fully know what to expect.
Jorian Baucom was on the bench when Cece Kizer scored in the 12th  minute. Although it was still daylight, she was very impressed.
"We were already going crazy on the bench after Cece scored and once the smoke and lights started going off everyone got even more hype and we were like 'Oh my god, this is so crazy.' It was really pretty cool."
Emina Ekic saw the lights flicker with Kizer's goal but didn't get a sense of how big the show was until after dark. "When Brooke scored everyone kind of went silent and went "Oh!" she recollected with a laugh. "Everyone was kind of taken back because there actually was a light show and it's really cool."
The light show has become a motivator for the players who joke with each other about wanting to be the next one to set it off.
"Me and Emina always joke about bringing the light show to game day," Baucom explained.
Even new players find themselves excited by the potential to set off the show. After scoring her spectacular debut goal for Racing on June 20, Ebony Salmon said she was saddened it was too bright outside to see it.
"It (was) a bit disappointing that it was still quite light, so the light show didn't go off," Salmon told the Equalizer after the game. "I'm definitely going to have to try to get a goal [during a night game] to see that in full show."
Baucom agrees.
"Going into games everyone looks forward to it because it makes the experience that much greater."
A Festive Atmosphere
Fans who've seen the light show in the stadium during a match agree it enhances their experience.
"I absolutely think the light show adds to the hype of the team and makes for a very festive atmosphere," gushed supporter Jennifer Fantoni. She and her family were unaware it was coming, but upon seeing it, they were immediately impressed. "I loved it and so did my family.  It really added to the excitement of scoring a goal."
Season ticket holder Paul Moon agrees. "It adds to the overall excitement and enhances the entertaining spectrum of the game greatly. It's a wonderful addition. I love it!"
Joe Weller wasn't expecting the light show, calling it a "big surprise!" He still found it fun and added that he really likes the stadium's atmosphere during games. However, he does wish it didn't get quite so dark so he could see the goal celebrations a little better.
This is the main concern of photographers who've worked during Racing's games. Both Lee Klafczynski and Joe Robbins are contributing photographers for ISI Photos and have shot during the Orlando Pride match and most games since.
"It goes from light to dark in an instant so you pray that your focus holds and you manage to capture a few good celebratory shots as the lighting changes," said Robbins. "It gets very dark with the lights going off so those images are largely unusable."
Klafczynski calls shooting during the show "a little nerve-wracking" because the celebration shots are some of the best and missing those moments can be tough. "It's a little frustrating for the photographers—you certainly don't get as many options when you go through your take that you would without a light show."
Still Klafczynski admits that the light show does add something special to the matches.
"I think it really adds to the atmosphere. The fans seem to enjoy it and there are plenty of fun photos to make of the fans after the goal too. I would totally love the light show as a fan or player. I totally get it regardless if it makes visuals harder to capture."
Safety First
Despite loving the show, many fans did admit they have some concerns over the safety of the light show.
"This does worry me. I don't want anyone to get hurt," said Amanda Vest on discussions about whether the show could trigger a seizure in someone with photosensitive epilepsy. There are also concerns it could be exclusionary for fans with other sensory sensitivities, like autism.
MUSCO has told the team that nothing they program would be a direct life-threatening risk to anyone. However, fans with a variety of sensory issues should remain cautious and be conscious of the effect it might still have on them. In order to be inclusive and help assure fan safety, the club has provided several accommodations. There are several warning systems in place to make sure everyone in attendance is aware of the potential risk. Signs are posted around the stadium. Additionally, warnings are given over the loudspeaker and a notice is posted on the massive stadium screen before kickoff and during half-time. Every fan spoken to for this article was aware of accommodations provided by the club, so the message is being heard.
The club worked closely with the local chapter of Families for the Effective Treatment of Autism (FEAT) to make sure the language in their announcements and the accommodations they provide are appropriate and adequate. Concerned fans are encouraged to visit guest services where they can check out special sensory bags that were donated by club sponsor Bright Spring Health. Each bag contains sunglasses, sound-reducing ear muffs, and stress-reducing items, such as a squishy stress ball, a Rubik's cube, and a fidget spinner.
While the stadium does not currently have a sensory room – a quiet place to decompress from the stimulation of a match – it's a priority for any future expansion to the stadium. In the meantime, fans can use the Nursing Room for breastfeeding mothers in a pinch, as long as it's unoccupied.
The club has known of several spectators with sensory issues who have attended games in the past and none of them had any reactions or concerns with the light shows. However, only individuals or their caregivers can be certain of what will affect them, so the club strongly suggests that at-risk individuals remain cautious. It's likely there are individuals who won't be helped by the kits who may refrain from participation in live games as a result.
"This Team is a Major League Team"
Ultimately, every club and every city will do soccer their own way. Some find the idea of a light show gauche while others love the spectacle. For the club, these celebrations under flashing lights aren't just for fun, they're integral to the culture being built in Louisville. And for fans like Tom Benson, they're also making a statement.
"It reinforces that this team is a major league team.  They shoot fireworks in the NFL and MLB. Pre-game hype videos in NBA arenas are incredible. When we score we do something big and cool, too."
Supporter Amanda Vest agrees, praising the show's uniqueness and how it makes Louisville stand out. "It's cool and different. Now that I've started watching other leagues on TV, I'm seeing that no one else does celebrations with a light show. It kinda makes us unique and I like that."
Louisville is perpetually referred to as a small market despite the fact that they have attendance numbers that should make some other teams jealous. Before a single player was signed, Racing sold over 3,000 season tickets. That's more than the entire attendance of the most recent Chicago Red Stars home game. It comes close to the average attendance for Sky Blue and the Houston Dash in 2019, the last full season for the NWSL. And yet many consider these markets to be better than a small city like Louisville. Ried and everyone at Soccer Holdings find that idea preposterous.
"Green Bay is a small market but nobody talks about them as a small market. That's what we have here and what we're growing here. We have a very great fanbase already built. If you've not been here to experience our soccer culture, you can't really speak on it. When you're here you get it, when you're not, you don't understand it."
So, Racing Louisville and Lou City are out to create their own culture by doing things their own way. With loud fans, purple smoke, and bright flashing lights to highlight every celebration. They may be the new kids, but they're not going to enter the league quietly. The light show is something unique to Racing in the NWSL. It's something for people to notice and fans and players to take pride in and build off of.
"The game experience as you go from soccer market to soccer market is always going to be different," Ried insists. "This is ours. This is us. The light show is what our fans love, it's what our team loves. It's what makes us unique."
And the players do certainly love it. When asked to describe the players' feelings on the light show, Jorian Baucom answered definitively: "We are a fan of the light show."
And after a pause, she laughed and added, "We know it's lit."