Match Recap: Racing Louisville vs Orlando Pride – 04/10/2021
After months of preparation, Racing Louisville finally took to the pitch for their first competitive match. The Orlando Pride made the trip north to Lynn Family Stadium to take part in the historic match and begin both clubs' 2021 season. The traveling opposition was in for a surprise as they lined up against the Kentucky-based expansion side. Coach Holly and staff had carefully concealed details on their training and match preparations throughout the preseason to maintain the competitive advantage. Aside from general descriptions of his vision, the final product was a mystery to both fans and opposition. Racing Louisville vs Orlando Pride was set to be a unique encounter.
Racing Louisville Lineup
While the broadcast initially portrayed Racing deployed in a 4-4-2, their setup was much more of a 4-2-2-2 as shown on FotMob and Google. Yuki and Cece Kizer led the line backed up by Lauren Millet and the local product, Emina Ekic. Freja Olofsson was deployed in a deeper midfield position surprisingly alongside Savannah McCaskill, who has traditionally been more of an up-the-field striker. The backline was composed of Erin Simon, Nealy Martin (a trialist signing), Brooke Hendrix, and the number one overall 2021 draft selection, Emily Fox. The captain, Michelle Betos, was between the sticks to bring in a veteran presence. It was nice to see several of the pre-match questionable players fit for the match.
First Half
Shortly after 7:00 PM EST, the starting whistle blew and the inaugural Racing Louisville match was underway! It didn't take long for the action to begin. At 2', an Orlando shot went just above the crossbar of Racing's goal. This was shortly followed up by a brilliantly threaded pass to Yuki, who took a shot just outside of the box that narrowly went wide of goal. Moments later, it was Yuki again who received a cross into the box that went straight at the keeper and deflected to a defender. Racing was looking dangerous early, and it was about to pay off.
At 12', a long pass downfield to a sprinting Cece Kizer put her in the perfect position to put the ball past the keeper and score the first goal in club history. Racing making the scoresheet first put the fans into a frenzy. An exciting and memorable moment for the club and its supporters. "Christy kept telling me just to make runs in behind and I'll find the ball, and it just so happened to land in my feet," Kizer said post-match. "I took a touch and kept telling myself, 'Don't miss. Don't miss. Just put it in the back of the net.' Not only was that the first goal in club history but also it was my first NWSL goal. It means a lot to me personally, and I know it means a lot to the club, so it's just great to be a part of something like this."
Orlando, eager to atone for their defensive missteps, put a high cross into the Racing box, but it just narrowly missed connecting with the head of their charging attacker. By this point, rain had moved into the area, causing some slippage and chaos to the already aggressive tempo put on by both squads. The Pride's Taylor Kornieck earned the first yellow of the evening at 35' for a clumsy collision with Betos. With the half drawing to a close, the rain had begun to dissipate and Orlando was able to pull one back. Orlando's Marisa Viggiano dispossessed the rookie Fox and let loose a cross into the box. Kornieck, standing 6'1", used her size advantage to head the ball off the near post into the goal right past Betos' hands. The equalizer before half surely had Coach Holly reworking his halftime spiel. Both squads entered the locker room 1-1, relatively level on possession and shots.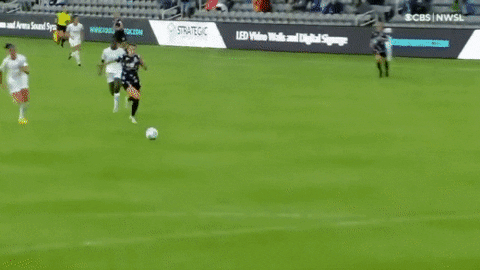 Second Half
The second half commenced with back-and-forth exchanges of offensive pressure; a Pride shot stopped by the keeper at 51' and a leading pass nearly finding Cece in a dangerous position in the box at 59'. It was not long after the substitution action began. In a ten-minute stretch, Orlando had Erika Tymrak came in for Jade Ellis Moore and Abigail Kim came in for Kornieck. Meanwhile, Racing had Katie McClure relieved Ekic, and Jorian Baucom was swapped in for Kizer. Baucom got carded early for a hard challenge that left the opposition on the ground for an extended period. Racing looked to break the deadlock at 87' with a high cross from McCaskill into the box that made contact with a charging attacker but didn't go goal bound as intended. Right afterward, Orlando marched downfield and Kim sent in a high shot above Betos and off the top bar into the net. An absolutely wonderful strike and an unfortunate turn of events for the home side.
Desperate to not let their inaugural match end on a sour note, Racing threw the kitchen sink at Orlando. Millet took a shot on goal that flew a tad above the net at 91'. Only a minute later was the magic moment of the match. McCaskill, off a free-kick, sent the ball into the mixer of the opposition's box. It fell to the feet of defender Brooke Hendrix, who banged it in low to the far corner of the net. Lynn Family Stadium erupted. A moment that will be remembered by the club for ages to come. "I saw it was 90 minutes and thought, 'All right, I'm going for it. I've got nothing to lose,'" Hendrix said after the match. "I sprinted up there and tried to get something on it. Freja got a head across and I saw the ball bouncing in front of me. Honestly, I just struck it and then I just blacked out. I was just running around, screaming, and yelling. I didn't know what to do because I was so excited."
That goal sealed the match as a 2-2 draw. The kind of draw that almost feels like a win given the dramatic fashion it played out.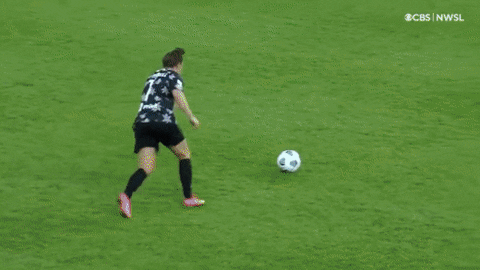 By The Numbers
The match ended level in more ways than one. Both the possession battle and pass accuracy ended nearly even. 51% to 49% and 70% to 69%, both slightly in favor of Racing. The Pride racked up a few more shots, however, fewer of their shots were on goal. From the defensive perspective, Orlando came out on top for clearances (19-11), duels won (57-41), and tackles (22-8). All in all, a fairly even encounter. With Coach Holy's playstyle now know, it would be interesting to see how a rematch between these two sides would pan out.
Full-Time Thoughts
Coach Holly showed he is a man of his word. He stated that he would have a hard-working team that will let no one get anything for free from them and that's exactly what happened. "It's just everything coming together today," said Racing's head coach, Christy Holly. "We're just delighted for the girls to be able to get out on the field, play in front of the crowd. Our fans have been fantastic. They've been patient as we build this program together." It's a result that reinforces all the work put into the preseason and provides the staff with some opportunities to work on in coming training sessions.
While the players will surely dissect some film soon and talk tactics, it was the atmosphere that caught the attention of players and fans alike. Hendrix stated, "It was incredible, the lights, the sounds, the fans. It was unreal, honestly and kind of took my breath away at first. I was so excited and nervous all day and then we got here, and it honestly felt like home from the first step we were on." On the light show, Kizer said "We had heard rumors about it, but you don't really know what to expect and then actually see it, it was sick and just great to be a part of." Should you be interested, you can hear my initial thoughts recorded shortly after the conclusion of the match. Taylor Sorrels offers an alternative perspective via the Louisville Coopers worthy of your time.
Racing cannot dwell too long on the #LOUvORL match as they are back in action on Thursday 04/15/2021. They will hit the road to taking on the Washington Spirit in what should be an extremely challenging encounter for the young team.