Match Recap: Racing Louisville vs North Carolina Courage – 04/26/2021
With two games now under their belts, Racing Louisville returned home to the beautiful Lynn Family Stadium to take on their strongest opponent yet, the NC Courage. Racing, still searching for their first win, were hoping to secure three points to keep them in contention for the Challenge Cup playoffs. Their opposition, North Carolina, is a perennial NWSL power having won the league title in 2018 and 2019, the last two years consisting of a full regular season pre-pandemic. Coming off a loss to Gotham FC, the Courage was eager to make up for lost points to help them secure a spot in the playoffs.
Racing Louisville Lineup
Only one change from the previous starting elevens and that is the inclusion of Kaleigh Riehl. They deployed Riehl in the role formerly occupied by Nealy Martin. Like the last match against Washington, Racing came out in the 4-2-3-1.
Your @MyHometownPizza Starting XI for #LOUvNC!

New to the lineup is Kaleigh Riehl making her first start in lavender! 👊 pic.twitter.com/CLrpV6Tv4s

— Racing Louisville FC (@RacingLouFC) April 26, 2021
First Half
The Courage did not waste any time imposing their might on the match. Within five minutes, they had two quality shots on goal with the latter only a few inches off target. NC's heavy pressure continued through the early stages of the match. At 22', the Brazilian international Debinha fired a shot narrowly over Racing's crossbar. Despite being forces to weather the storm, it was Racing Louisville who found the back of the net first. At 24', Erin Simon sent the ball airborne into NC's box where Cece Kizer was able to put her head on it and direct it towards the goal.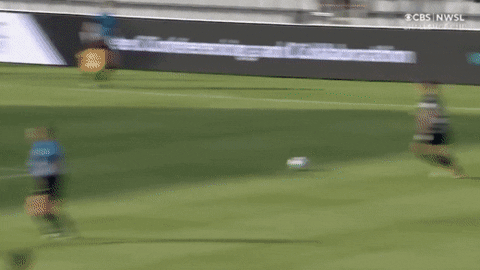 #NWSLChallengeCup 2️⃣0️⃣2️⃣1️⃣#LOUvNC #LOUvNCC @RacingLouFC 2️⃣-3️⃣@TheNCCourage
Racing's Goals⚽️⚽️ by @cecekizer and @joriannicole #RunWithUs #Louisville #NWSL pic.twitter.com/6e8W4ej08w

— NWSLart (@ArtNwsl) April 27, 2021
Unfortunately for the home team, it only took about ten minutes for the NC Courage to respond. A corner kick was headed off the far post and into the net, tying the match up at 1-1. That deadlock held for the rest of the half. Racing was fortunate to have only allowed one goal given the heavy pressure.
Second Half
Returning to the pitch for the second half, NC picked right back up from where they left off. Michelle Betos made a great kick save at 51', denying Lynn Williams a goal. Only a minute later, Betos poorly distributed the ball out of the box, which ended up right back with NC. Thankfully, Betos was able to stop the one-on-on stop. At 57', an NC counter-attack was initially stopped, but the ball found its way to Debinha at the box's edge. Debinha's fantastic strike went into the top left of the net giving the away side the 2-1 lead.
In an effort to salvage something from the match, Simon and Emina Ekic came off for Julia Ashley and Katie McClure at 70' and at 73', Jorian Baucom relieved Yuki Nagasato. These substitutions made an instant impact changing the dynamic from the Courage being the aggressor to Racing taking control. At 75', Kizer crossed the ball into NC's box where Baucom was able to get a foot out and push it by the keeper. Post-match, Kizer said, "Christy kept saying we need to get crosses in, and we need to get numbers in the box. I put the ball in and saw Jorian and Katie McClure in there and figured one of them was going to put it in. I'm very happy that Jorian got her first goal tonight."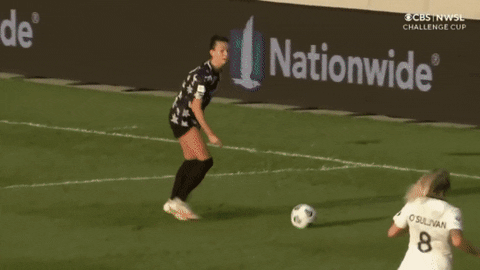 With the score now tied, there looked to be some life in the Racing side. Racing appeared to be set to earn some points from the match until disaster struck. In Racing's half of the pitch, Brook Hendrix slipped allowing a charging Courage attacker space to get into the box and get a shot on goal. While Betos stopped this shot, it was deflected out off a Racing defender on the ground and sent back into the goal. It was an odd and unfortunate sequence for Louisville that would ultimately lead to their 3-2 defeat and subsequent knockout for playoff contention in the Challenge Cup. After the match, Coach Holly commented, "A lot of lessons to learn as usual but the performance was not anywhere near what we are capable of. I am disappointed in the quality of the play and some of our decision-making. I can't fault anything in terms of our mentality. Our work ethic was fantastic. We need to showcase more talent than what we are doing."
By The Numbers
Much like the match against Washington Spirit, Racing was dominated in shot totals. Possession was not as lopsided as it felt watching the match as the Courage had 52% and Racing had 48%. Racing did not have the same level of passing accuracy as their opposition. Looking at all the numbers, there isn't exactly much there showing that Racing should have won the match. As Coach Holly said, a lot of lessons to learn.
Racing Louisville vs. North Carolina XG Recap ⚽️

Really unfortunate that Racing didn't end up with a point. This was an even match and sometimes bad breaks happen.

(@AnalysisEvolved) pic.twitter.com/o3x8f4sbvc

— NWSL Field of Vision (@NWSLFieldVision) April 27, 2021
g+ GameFlow: NWSL Challenge Cup Group Stage @RacingLouFC v @TheNCCourage on April 26, 2021. #RunWithUs #CourageCountry #LOUvNC pic.twitter.com/uZful2j2TP

— GameFlow (@GameFlowxPG) April 27, 2021
xG Race Plot for @RacingLouFC v. @TheNCCourage!#RunWithUs #CourageCountry #LOUvNC pic.twitter.com/aCnuYXDGBA

— Arielle Dror (@arielle_dror) April 27, 2021
Full-Time Thoughts
It was a tough loss. Racing was not the better side but losing the draw to a wonky own goal with only minutes left stings. The squad has a lot of growing to do. A few of Michelle's ball distributions from the goal almost ended poorly. Poor passing across the pitch was exploited. Despite some of these negatives, there were certainly some positives. This team has heart. They did not allow the quality of opposition to stop them from scoring first and when they went down; they fought back. Racing also has some transformative playmakers like Baucom who can come in and change a game. As soon as they made the substitutions, the game did a 180 in Racing's favor.
While they may not have a win yet, the positives are there and they will come. This is just a preseason tournament and while winning silverware is always great, this competition is not worth losing too much sleep over. The regular season is where the squad needs to fire on all cylinders. To quote Coach Holly after the match, "It is up to us to make sure that we are sponges here. We talked about it after the game. We've got to absorb this, let the scars happen, and push on."