Lights FC sunk in SoCal by Orange County SC
Las Vegas Lights FC kept things close for a large chunk of the match before things got out of hand late.
Playing their third straight match in California, Las Vegas Lights FC dropped a 3-0 result to Orange County SC. Jerry van Wolfgang, Aodhan Quinn, and Michael Seaton provided the goals for the hosts.
Key Stats
🔑 25 minutes. In the 65th minute, this match was 0-0. Over the next 25 minutes, Orange County SC scored three times at Championship Soccer Stadium. It went from a possible road draw to a blowout in a pretty quick fashion.
🔑 Two shots on target. Holding very little possession, the Lights tried to do their damage on the counter-attack. But, they could only muster two shots on frame.
Three Brightest Lights
💡💡💡 Fito Zelaya: He was responsible for both of Las Vegas' shots on target and played as the solo figure up top. He battled the OCSC central defenders
💡💡 Javan Torre: Playing at left-back, he was able to push the ball forward from the backline. He made five clearances, an interception, and he did not commit a foul.
💡 Pablo Cruz: On a day where there was not much passing or passing accuracy from Lights FC, Cruz was quality with 86% accuracy on 28 passes.
Quick Kicks
⚽ A draw would have been an excellent result for the Lights on a match that they did not look very threatening in. Unfortunately, things got off the rails quickly late in this one.
⚽ While Michael Seaton made a great individual run on the final OC goal, the defensive effort seemed lacking from the Lights, especially Dejan Jakovic, who made a half-hearted attempt to cut him off right in front of goal.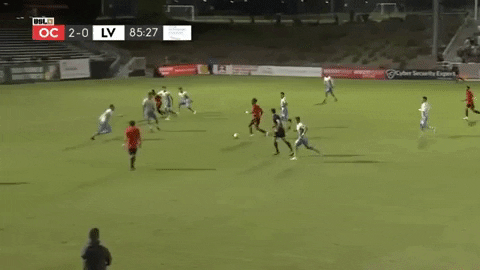 ⚽ Junior Sandoval was sent off in the final minutes of the match for a reckless challenge that gave him a second yellow card. It pulled Las Vegas even for the league lead in red cards with six.
⚽ With the win, Orange County SC moved ahead of Lights FC on the table. Las Vegas sits in 14th and five points below the cut line.
Okay, What's Next?
📅 After a three-match road swing, Lights FC will be back at Cashman Field next weekend to host Portland Timbers 2. T2 currently occupy the last playoff position, despite only one win in their last five matches.