Growing Pains: NC Courage vs Racing Louisville Recap – May 28, 2021
They're called growing pains for a reason: they hurt.
Racing Louisville started their first season looking surprisingly competitive. During the preseason Challenge Cup, they managed two draws and two losses, losing by only one goal in each instance. In the regular season, they earned a draw against Kansas City before following it up with a storybook win against the Washington Spirit at home.
On Friday, however, Racing was left bruised and battered after a 0-5 loss to the North Caroline Courage. This was a painful loss, but not too surprising. This is often how it goes when an inexperienced team in an unfamiliar venue faces an NWSL dynasty at full strength.
Let's take a look back at what happened, what it says about Racing going forward, and what they have to do to avoid a similar fate going forward.
Match Recap
Coach Christy Holly elected to go with an unchanged starting eleven.
Why change a good thing? 🤷‍♀️

Your @MyHometownPizza Starting XI for #NCvLOU. 👇 pic.twitter.com/0iSv9KwYYI

— Racing Louisville FC (@RacingLouFC) May 28, 2021
Courage Coach Paul Riley, however, had some new weapons in his arsenal since the last time they met Racing. Namely, team captain Abby Erceg and U.S. National Team member Sam Mewis.
Big upgrades, to say the least.
[STARTING XI] How we're lining up tonight. @Bojangles | #NCvLOU pic.twitter.com/AODtdNzu2r

— NC Courage (@TheNCCourage) May 28, 2021
First Half
Racing's backline was tested early with Michelle Betos earning a save in only the 4th minute. By the 7th minute, the Courage had scored their first goal – a header from Erceg. There were no more goals in the first half, although the Courage would unleash a total of 14 shots before it was through. Comparatively, Racing had only a single shot when Lauren Milliet booted one high in the 31st minute.
Speaking of Milliet, let's all take a second to enjoy Racing's 5'1″ Small Wonder taking down the 6′ Tower of Power, Sam Mewis, in the 27th minute.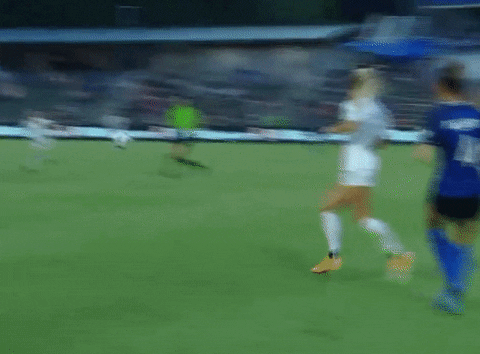 Beautiful.
Second Half
The Courage returned ready to play launching a relentless attack that barely let up all half. From the 50-52 minutes alone, the Courage had two misses, a shot off the post, and a shot blocked. By the time the final whistle blew, they would score four more goals. In the same span, Racing remained gun shy, only managing five shots with one on goal.
 By the Numbers
Last week, the numbers didn't tell the whole story. This time they did.
The Courage had 29 shots on goal with 11 on target. Five of those shots were saved by Betos, but five were converted to goals. Meanwhile, Racing had only six shots on goal all night with only one on target. Possession was split just about 40/60 with Racing having the lower possession.
Key Takeaways
Once again, Racing Louisville barely got any shots off while the other team sent in an offensive blitz. They survived last time thanks to Betos' phenomenal work in goal, but a performance of that level cannot be expected each week. The defense and midfield need to step it up to prevent so many opportunities from opening up in the first place.
Offensively, players are still unable to find ways to get involved in the attack and get shots off. Again, hesitation in the final third kept any momentum from developing. If a goal is conceded early, they need to be more aggressive and try to earn the equalizer instead of waiting for the perfect moment.
xG Race Plot for @TheNCCourage v. @RacingLouFC!#CourageCountry #RunWithUs #NCvLOU #NWSL pic.twitter.com/edVdbwKLhK

— Arielle Dror (@arielle_dror) May 29, 2021
Finally the journey begins .. ✈️🇺🇸 pic.twitter.com/l7ddIp3fXw

— Gemma Bonner (@gembon23) May 29, 2021
The imminent arrival of Gemma Bonner may help in both regards. The seasoned English defender is finally on her way to Louisville. When she's game fit, her veteran presence will provide new leadership to the backline and hopefully give Savannah McCaskill the ability to play more offensively instead of constantly tracking back to defend.
Racing does have a few other assets that will hopefully be available in the near future. Defensively, UNC standout Julia Ashley and expansion draft pick Addisyn Merrick have been unavailable due to injury but will hopefully be ready for minutes soon. Offensively, Racing is still awaiting the arrival of the young English striker Ebony Salmon who is due to get her visa any day now. Plus, Cheyna Matthews is just about ready to get some playing time after recovering from the birth of her second child.
You Take the Good, You Take the Bad
The facts of life for an expansion team are straightforward: you will take your lumps and learn hard lessons. What allows teams to finally shed the 'expansion' moniker is how they deal with these setbacks.
For match standout Emily Fox, moving beyond this loss will be both an individual and team effort: "As a whole, it was a team letdown. I think each and every one of us can look at this game, reflect and think about what we each could've done individually," she said. "Then as a whole get together and try to figure out what we can do better. "
Still, she is confident that there's much to be learned from the experience "I think it's important that this did happen and that we can take from this, move on, and learn from it."
Coach Holly agrees.
"I think tonight's game will be very, very beneficial for us," he said in a post-game press conference. "Last week, we didn't get carried away with the win. Tonight, we'll not get carried away with the loss. We'll sit down, reflect, and we'll go again."
Coming Up Next…
Racing Louisville is used to playing at home in front of a full house with the pounding drums and non-stop cheers from the Lavender Legion urging them on. Next week, they'll learn what it feels like on the other side as they face the Thorns in Portland. Providence Park is a different world from other stadiums in the league and they'll have to keep their cool and stay focused to avoid another poor outcome.